CASH
Yes. Smith's still accepts the "Good Ole' Fashioned Green Stuff".
CHECK
No problem. All checks are welcome once they pass our approval process.
CREDIT CARD
Use your Visa, Mastercard, or American Express!
SYNCHRONY FINANCAL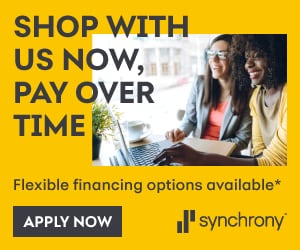 WELLS FARGO
ACIMA
Requires Only a $1000 Gross Monthly Income
Need only 90 Days for Checking or Savings Account to be open
Purchase after 90 days and save 25% on all outstanding payments
Apply Now
PROGRESSIVE LEASING
No Credit Needed: Progressive Leasing obtains information
from credit bureaus. Not all applicants are approved.
Early Purchase Options: Early Purchase Options: Standard
agreement offers 12 months to ownership. Early purchase
options cost more than the retailer's cash price (except
3-month option in CA). To purchase early call 877-898-1970.
Flexible Payment Schedules
12 Month Lease-To-Own
Early Purchase Option
Apply Now
Progressive Leasing Disclosure: The advertised service is lease-to-own or a rental- or lease- purchase agreement provided by Prog Leasing, LLC, or its affiliates. Acquiring ownership by leasing costs more than the retailerâ??s cash price. Leasing available on select items at participating locations only. Not available in MN, NJ, VT, WI, WY.